Glamour-Eyes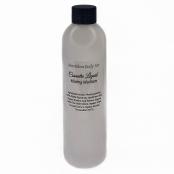 Cosmetic Mixing Liquid
Please indicate if you need these unlabeled for your own branding. Otherwise, they will be labeled with Amerikan Body Art branding.
The ingredient list is below in case you need to create your own ingredient labels.
This is a liquid mixing medium that can be used with your cosmetic powders (mica powders, mineral makeup, metallic powders) to create a liquid paint-on or airbrush cosmetic. It contains NO Parabens.
To make a liquid eyeliner, you can wet your brush with the liquid and swipe it on your pressed eyeshadow cake, or mix a drop with loose eyeshadow or mineral makeup.
To use this for applying glitter eyeliner, dip your brush into the liquid, then dip the wet brush into your loose glitter. Press the brush to the lash line. You may need to do this in multiple steps. If your glitter is clumpy along the lash line, wet the brush again and just use that to smooth out the line.
You can also use this product in a spritzer bottle, as an overall sealer for mineral makeup.
We currently offer this product in a 10ml vial (with attached liner brush) for personal use, a 0.5oz Dropper bottle for professional use, and an 8oz bottle for high volume artists.
Materials/Ingredients
Water, Phenoxyethanol, MSM, DMAE Bitartrate, Hyaluronic Acid, Organic Rooibos Leaf Extract, Organic Green Tea Leaf Extract, Organic White Tea Leaf Extract, Organic Alcohol, Tetrasodium EDTA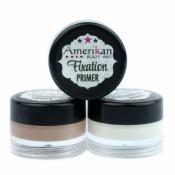 Fixation Primer
After many years of searching, we have finally found a product that adheres loose eyeshadow (mica powder) and glitters to the eyelid, without containing parabens and other questionable ingredients. We've had professional make-up artists testing the product for us, and the consensus is that it works great. Simply dab the primer onto your eyelid, or apply it with a brush, then dab your loose powders over the primer. You'll get true un-muted color from all of your loose or pressed eyeshadows, and a foil effect from shimmery shadows. You may want to experiment a little to find the perfect amount of product to use. Too much product, may cause creasing.

We offer this primer in two colors: White and Neutral Beige. The White is better for lighter colored or neon cosmetics, or for someone with very fair skin. The Neutral is a nice option for darker cosmetics, darker skin, or for a more natural makeup look. We started out with just the white color, but had requests from make-up artists for a more neutral/ beige product because the product could be blended into the skin a little easier and wouldn't need to be completely covered with powder. We were pleased to discover that the neutral color works great as a concealer for dark eye circles and blemishes as well. Either color will likely work well enough for most people.
Materials/Ingredients
Amerikan Body Art - Fixation Primer Ingredients: Sweet Almond Oil, Titanium Dioxide, Yellow Beeswax, Castor Oil, Shea Butter, Iron Oxide, Cocoa Butter, Mica, Organic Jojoba Oil, Meadowfoam Oil, Evening Primrose Oil, Avocado Butter, Zinc Oxide, Vitamin E, Rosehip Seed Oil, Organic Aloe Oil, Rosemary Extract, Neem Oil - Net Wt 0.3oz