Glamour-Eyes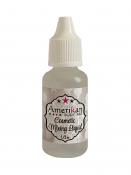 Cosmetic Mixing Liquid
Please indicate if you need these unlabeled for your own branding. Otherwise, they will be labeled with Amerikan Body Art branding.
The ingredient list is below in case you need to create your own ingredient labels.
This is a liquid mixing medium that can be used with your cosmetic powders (mica powders, mineral makeup, metallic powders) to create a liquid paint-on or airbrush cosmetic. It contains NO Parabens.
To make a liquid eyeliner, you can wet your brush with the liquid and swipe it on your pressed eyeshadow cake, or mix a drop with loose eyeshadow or mineral makeup.
To use this for applying glitter eyeliner, dip your brush into the liquid, then dip the wet brush into your loose glitter. Press the brush to the lash line. You may need to do this in multiple steps. If your glitter is clumpy along the lash line, wet the brush again and just use that to smooth out the line.
You can also use this product in a spritzer bottle, as an overall sealer for mineral makeup.
We currently offer this product in a 10ml vial (with attached liner brush) for personal use, a 0.5oz Dropper bottle for professional use, and an 8oz bottle for high volume artists.
Materials/Ingredients
Water, Phenoxyethanol, MSM, DMAE Bitartrate, Hyaluronic Acid, Organic Rooibos Leaf Extract, Organic Green Tea Leaf Extract, Organic White Tea Leaf Extract, Organic Alcohol, Tetrasodium EDTA