Resources
Here are some of our preferred resources for many of the items that we use in our own business.
Labels, Brochures, Instruction Sheets, Product Tags
Biodegradable Packing Peanuts
Self-Publishing Book Printer
Displays for Shops & Tradeshows
Shopping Bags & Packaging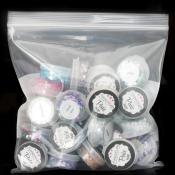 Glitter Giveaways
These items can be used as prizes or giveaways for customers or students....or just as a special treat for yourself.
Choose from several different sample packs.