Henna Kit Supplies
Henna Kits are generally an easy upsell for instructors and festival artists. We have listed products on this page that you might want for creating your own henna kits. Building your own kits allows you to include your own marketing materials and increases your profit margin. Check out our Resources page for additional supply ideas.
Kit ideas
Fun Size Henna Kit: 25g henna powder, 5ml essential oils, carrot bag, applicator
Festival Size Henna Kit: 100g henna powder (20ml essential oils, 2 carrot bags, applicator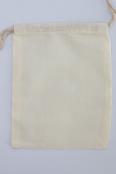 Cotton Muslin Double Drawstring Bags
These are premium quality cotton muslin bags with a double-drawstring. We use the 6"x 8" size for our Fun Size kits and the 6" x 10" size for our Festival Size Kits. Besides being reusable, the added benefit of a cotton bag, is that your customers can decorate them with henna paste and the stains will be permanent. You can use a business card or bookmark as a hang tag for your henna kits.